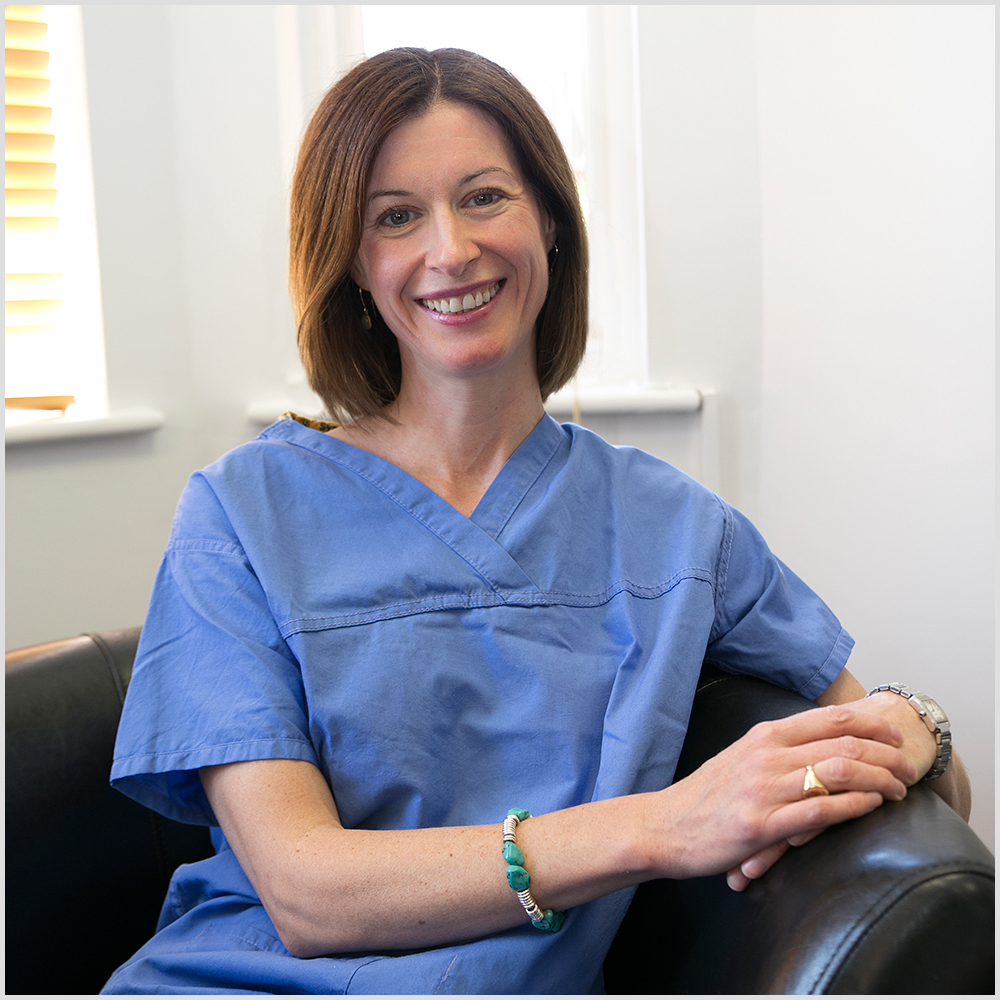 Watch Michelle's discussion about breast cancer awareness
Miss Michelle Mullan, Consultant Breast Surgeon MB ChB BSc (Hons) FRCS
Miss Michelle Mullan qualified from the University of Bristol in 1995 and underwent her surgical training in Bristol and the West Midlands. She has always been interested in breast disease, and undertook research at The Royal Surrey County Hospital in sentinel lymph node biopsy, as part of the Medical Research Council ALMANAC Trial. Michelle has been appointed as an Ordinary Trustee for the Association of Breast Surgery and sits on the Clinical Practices and Standards Committee.
Her advanced surgical training in Oncoplastic Breast Surgery was in the UK and the United States, practising at the University of Michigan, Ann Arbor, and the Henry Ford Institute in Detroit. She was admitted as a Fellow of the Royal College of Surgeons of England in 2006. In 2008 Miss Mullan won the European Society of Surgical Oncology Travelling Scholarship and spent her time at the Nottingham Breast Institute. She was appointed as an Oncoplastic Breast Consultant at Worcestershire Royal Hospital in 2008 and works for the NHS in Worcestershire.
She is the Lead Breast Surgeon for Worcestershire Acute Hospitals NHS Trust. Her clinical interests include breast cancer surgery using oncoplastic techniques, sentinel lymph node biopsy, lipofilling of breast defects (Colman fat transfer), breast reconstruction, nipple reconstruction and nipple tattooing. She is also fully qualified to perform breast ultrasound and skin cancer surgery, including melanoma excisions.
Michelle has specialist interests in breast cancer diagnosis, treatment, surgery (including reconstruction), benign breast disease and breasts disorders in teenagers. She has been a Consultant Breast Surgeon for nearly ten years and personally treats over 150 women with breast cancer a year. She leads her multidisciplinary team of oncologists, radiologists and pathologists, to ensure her patients receive state-of-the-art surgical and compassionate care.
Moreover, with an additional First Class honours degree in Psychology, Michelle is able to advise women about their diagnosis and to help them understand treatment options and recommendations, providing medical facts, debunking myths, and offering coping strategies.
"I understand the psychological impact a breast cancer diagnosis can bring. It affects not only the patient but also everyone around her. When treating a patient, I aim to take into consideration treatment recommendations from an oncological cancer perspective, but more than that, I take a holistic approach to the whole person as I understand the emotional and psychological impact a breast cancer diagnosis can evoke.
Naturally women feel very vulnerable when they come to a breast clinic. I truly believe it is such a privilege to work with my courageous patients and treat them at this time. Occasionally patients say it must be difficult to do my job, but I always reply that I know I make a positive difference to fellow women every day.
Outside of work I find time to relax with my family, swim regularly and am a member of a book club. I love entertaining and can often be found baking bread at the weekends. I am currently brushing up on my French, as well as teaching my sons to ski, but know it won't be long before I am the last one down the mountain! "
Patient Testimonials:
"Dear Michelle. It is difficult to express how deeply grateful I am for the exemplary care you have given me over the past few weeks. I am sure you are well aware how angry, scared and isolated women with breast cancer can feel. Your understanding and compassion have genuinely helped alleviate this for me. If you had not suggested that further investigations were a valid route considering my history, then my position, in the not too distant future would have been far bleaker. It feels so inadequate to thank you again but it is sincerely meant." CT March 2016

With all my very grateful thanks for all the kind and caring treatment I've met with. You truly set the Gold Standard of care, to which all in the medical and caring professions should aspire to. With my kind regards, LB Aug 2015Sue M

Dear Miss Mullan, Simply I'd like to thank you very sincerely for the attention you gave us earlier in the year, when you took time from your busy schedule to arrange, at short notice to operate on my wife. We didn't have the opportunity at the time to thank you, but we were much relived by your response and remain appreciative of your help AS May 2015

Dear Dr Mullan, I would like to thank you most sincerely for all the loving care you showed to my daughter, R. The care and empathy shown was amazing. I know she appreciated the good humoured banter between you and herself. Sincerely yours, CH. Jan 2016
Read more patient testimonials
here.
Patient Feedback:
In her most recent GMC revalidation process, Miss Mullan scored 100% positive feedback from patients on a wide range of measures including her expertise, her compassionate approach and her practical understanding of life for a patient and her family. Further categories assessed included attention to detail, uncompromisingly high standards, patient education and treating her patients with dignity.
Mullan MH, Snook K, Taylor C. Diplomatosis: Ultrasound of the Breast. British Medical Journal 2009; 338: 160 (BMJ Careers Section)

Mullan MH, Wilkins EG, Lowery JC, Smith D, Kim HM, Goldfarb S. Prospective analysis of functional outcomes in breast reconstruction: two year postoperative results. Journal of Plastic, Reconstructive and Aesthetic Surgery 2007; 60: 503-8

Gauger PG, Mullan MH, Thompson NW, Doherty GM, Matz KA, England BG. An Alternative Analysis of Intraoperative Parathyroid Hormone Data May Improve the Ability to Detect Multiglandular Disease. Archives of Surgery 2004; 139: 164-169

Mullan MH, Gauger PG and Thompson NW. Endocrine tumours of the pancreas: Review and Recent Advances. Australian and New Zealand Journal of Surgery 2001; 71: 475-82

Mullan MH and Kissin MW. Positive Sentinel Node Biopsy in Male Breast Carcinoma. Australian and New Zealand Journal of Surgery 2001; 71: 438-440

Mullan MH, Deacock SJ, Quiney NF, Kissin MW. Anaphylaxis to patent dye during sentinel lymph node biopsy for breast cancer. European Journal of Surgical Oncology 2001; 27(2): 218-9

Mullan MH, Kissin MW, Deacock SJ, Quiney NF. "Beware of the Blues": anaphylaxis to patent V dye during Sentinel Lymph node biopsy for breast cancer (Minerva). British Medical Journal 2000; 321: 460

Mullan MH and Harris AR. Antibiotics and the combined oral contraceptive pill: interactions in an accident and emergency setting. Journal of Accident and Emergency Medicine 1999; 16(4): 265-7

Arul GS, Mullan MH, Cornish J, Oakhill A, Spicer RD. The role of surgical biopsies in bone marrow patients: a retrospective review of all patients who received biopsies between Feb 1994 and Jan 1997. Medical and Paediatric Oncology 1999; 33(2): 95-8.

Mullan MH. Report on the Association of Surgeons in Training Meeting, November 1997. Surgery 1997; 15(12): 4
ORAL AND POSTER PRESENTATIONS
ORAL PRESENTATIONS

Tan M, Bassouney S, Thrush S, Bright-Thomas RM and Mullan MH
Not another bloody haematoma: rates of return to theatre for a modern oncoplastic breast service
West Midlands Surgical Society Meeting, Stoke, May 2015

Walsh U, Thrush S, Mullan MH, Bright-Thomas
Management of new diagnosis breast carcinoma: an age comparison of those aged over and under 70.
West Midlands Chapter of Breast Surgery, Warwick, September 2013

Mylvaganam S, Brimyard E, Mullan MH
The assessment of breast lumps in young women: The case for a change in guidelines
West Midlands Chapter of Breast Surgery, Birmingham, July 2012

Mullan MH, Rai S, Vishwanath L, Brown H and Hoar F
Day Case Breast Surgery: a reality!
West Midlands Chapter of Breast Surgery, Warwick, May 2007

Mullan MH, Burney RE, Gauger PG, Thompson NW.
Primary hyperparathyroidism in children and adolescents: a different disease?
Association of Surgeons of Great Britain and Ireland, Harrogate, April 2004.

Mullan MH, Goldfarb S, Lowery JC, Smith D, Wickman M, Sandelin K, Rylander R, Wilkins EG.
Prospective analysis of psychosocial outcomes after breast reconstruction: cross cultural comparisons of one-year postoperative results.
12th Congress of the European Society of Surgical Oncology, Lille, France, April 2002

Mullan MH, Wilkins EG, Lowery JC, Smith D, Kim HM, Goldfarb S.
Prospective analysis of functional outcomes in breast reconstruction: two year postoperative results.
International Surgical Week, Brussels, Belgium, August 2001

Rose K, Mullan MH, White WF, Merry S, Willgoose P, Kissin MW.
Service implications of introducing sentinel node biopsy: extrapolations from the first 100 patients randomised to the ALMANAC Trial.
7th Nottingham International Breast Cancer Conference, September 2001

Mullan MH, Kissin MW.
Sentinel Node Biopsy: not perfect yet.
10th Brighton Breast Cancer Day, July 2000

Mullan MH, Kissin MW
False negative sentinel node biopsy in breast cancer: reasons and lessons.
35th Congress of the European Society for Surgical Research, Malmö, Sweden, June 2000

Mullan MH, Kissin MW, Deacock S, Quiney NF
Severe allergic reactions whilst localising the sentinel lymph node with blue dye: a cautionary tale.
10th Congress of the European Society of Surgical Oncology, Groningen, Netherlands, April 2000

Mullan MH, Kissin MW
Guildford Phase I and Randomisation ALMANAC data
1st ALMANAC Sentinel Node Symposium, Cardiff, January 2000

Mullan MH, Kissin MW
The Guildford 25: a report of our experiences of the first 25 ALMANAC patients.
6th Nottingham International Breast Cancer Conference, September 1999

Mullan MH.
Sex and drugs in the E.R.!
South West and Wessex Consultants Surgical Meeting, Taunton, May 1998.

POSTER PRESENTATIONS

Derpapas M, Bright-Thomas RM and Mullan MH
The role of MRI in the elderly: is there a use?
Association of Breast Surgeons, Manchester June 2016

Athwal R, Thrush S, Mullan M and Bright-Thomas R
Surgical Management of breast cancer following neoadjuvant endocrine therapy: our clinical experience
Association of Breast Surgeons, Bournemouth, June 2015

Athwal R, Lindsay J, Tan M, McEvoy K Thrush S, Mullan M and Bright-Thomas R
Comparison of radial margins in therapeutic mammoplasty and wide local excisions for invasive breast cancer.
Association of Breast Surgeons, Bournemouth, June 2015

Athwal RK, Mullan MH, Thrush S, Bright-Thomas RM
Neoadjuvant Endocrine Therapy (NET) in Elderly Patients with Breast Cancer: Our Clinical Experience
Third Symposium 1ary Breast Cancer in Elderly Women, Nottingham, March 2015

Walsh U, Thrush S, Mullan MH, Bright-Thomas RM
Management of new diagnosis breast carcinoma: an age comparison of those aged over and under 70.
International Society of Geriatric Oncology, Copenhagen, October 2013

Caine, P, Thomas H, Bright-Thomas RM, Mullan MH, Thrush S
Acellular Dermal matrices in immediate implant based breast reconstruction: our experience of complication rates using Strattice and Biodesign.
Association of Breast Surgeons, Manchester, May 2013

Walsh, U, Mullan MH, Thrush S and Bright-Thomas R
PIP implants: where are we now?
Association of Breast Surgeons, Manchester, May 2013

Walsh, U, Mullan MH, Thrush S and Bright-Thomas R
The PIP implant scare: estimating the cost to one regional breast unit.
Association of Breast Surgeons, Manchester, May 2013

Crombie K, Elvy A, Bright-Thomas R, Mullan MH and Thrush S
Enhanced recovery for reconstructed breasts: how can this be achieved?
Enhanced Recovery Association Meeting, Cheltenham Nov 2012

Griggs, R, Harris C, Bright-Thomas R and Mullan MH
Imaging in patients aged 35-39: which modality is best?
ABS, Bournemouth, May 2012

Griggs, R, Harris C, Bright-Thomas R and Mullan MH
Imaging in patients aged 35-39: which modality is best?
8th European Breast Cancer Conference, Vienna, March 2012

Abbott N, Bright-Thomas R, Mullan M, Thrush S
Bilateral simultaneous breast surgery: updated results from a DGH
ORBS 2011, Nottingham, September 2011

Abbott N, Bright-Thomas R, Mullan M
Modification of a skin reducing mastectomy with immediate implant reconstruction in the generous breast
ORBS 2011, Nottingham, September 2011

Fisher R, Ferguson H, Bright-Thomas R, Mullan M, Thrush S
Breast reconstruction/volume displacement procedures in the Elderly
ORBS 2011, Nottingham, September 2011

Holmes A, Elledge R, Bright-Thomas R, Thrush S, Mullan M
Is it cost effective to introduce intraoperative molecular analysis of sentinel lymph nodes using OSNA ?
Association of Surgeons in Training, Manchester, March 2011

Rastall S, Bright-Thomas R, Mullan M, Thrush S
Bilateral simultaneous breast surgery: what the patients think
ORBS 2009, Nottingham, September 2009

Kay N, Rastall S, Bright-Thomas R, Mullan M, Thrush S
Surgical Management of Paget's Disease of the Breast
ORBS 2009, Nottingham, September 2009

Mullan MH, Burney RE, Gauger PG, Thompson NW
Primary hyperparathyroidism in patients under 30 years of age
National Institutes of Health Consensus Conference: Asymptomatic primary hyperparathyroidism: a perspective for the 21st Century
National Institutes of Health, Bethesda, Maryland, USA, April 2002

Mullan MH, Rose K, White WF, Merry S, Willgoose P, Horton P, Kissin MW
Early performance indicators in the ALMANAC Trial are looking encouraging: experiences and extrapolations from the first 120 randomised cases in Guildford
7th Nottingham International Breast Cancer Conference, September 2001

Rose K, Mullan MH, Merry S, Willgoose P, Smales M, Kissin MW
Changes in arm volume during the validation phase of the ALMANAC Trial in Guildford
7th Nottingham International Breast Cancer Conference, September 2001

Roche NA, Mullan MH, Kissin MW
Autologous latissimus dorsi breast reconstruction
7th Nottingham International Breast Cancer Conference, September 2001